Azerbaijan's startup ecosystem is young and still small. Despite this, hundreds of successful and unsuccessful startups have been established so far. Some of them managed to enter the world market. The most successful event of the ecosystem is the "exit" of the Nextsale startup in early 2022.
For the development of the startup ecosystem, various players are working with their own responsibilities. In recent years, players have been successful.
In turn, state institutions are also doing things for this. The benefits provided by the Ministry of Digital Development and Transport to Technopark residents, the Technest scholarship program, and the Startup certificate issued by the Small and Medium Business Development Agency are steps to support the ecosystem.
While these concessions continued, there was still no organization in our country that measured the activity of startups and prepared the report of the ecosystem. For this reason, as tech.az, the fastest media in the ecosystem, we decided to do this.
61 startups participated in this very difficult and responsible work.
Work is carried out in various directions for the development of the startup ecosystem. This is done by various institutions and organizations. Below is a list of these organizations.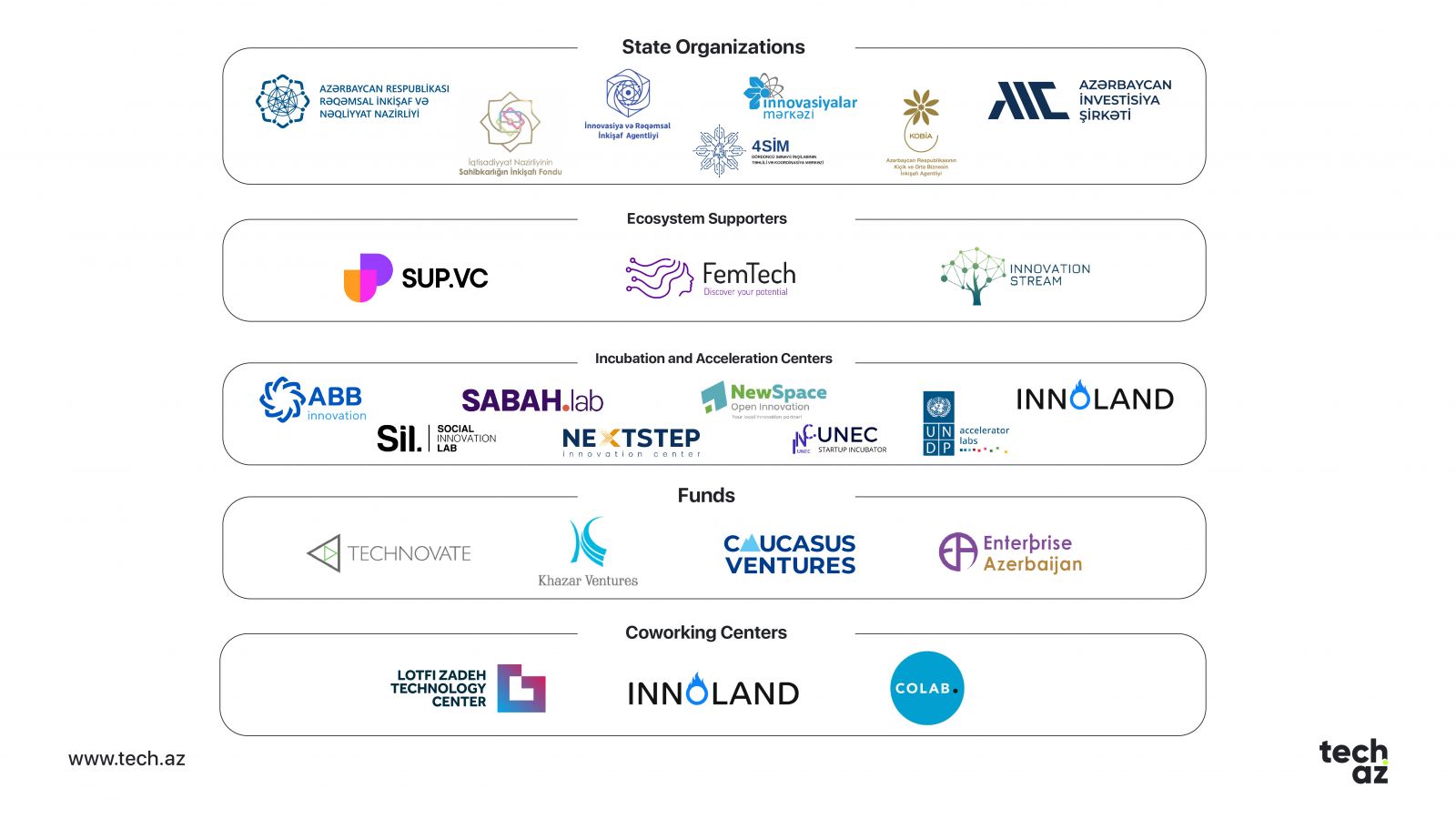 Although the main center of startups established in our country is the capital Baku, this process is also starting in the regions.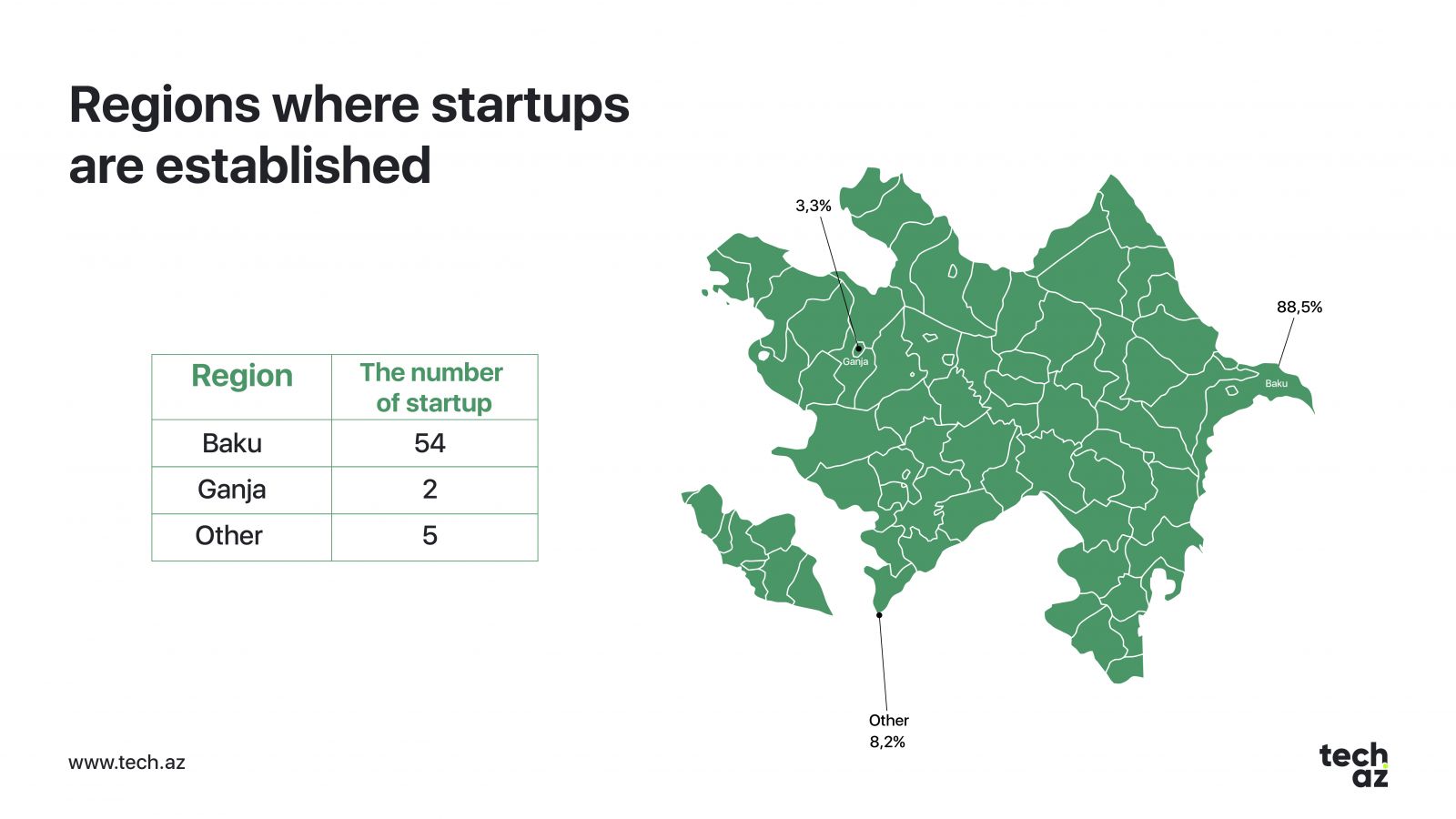 As in the whole world, men are the majority in the gender distribution of startup founders in Azerbaijan. But the good news is that startups founded by women are more sustainable.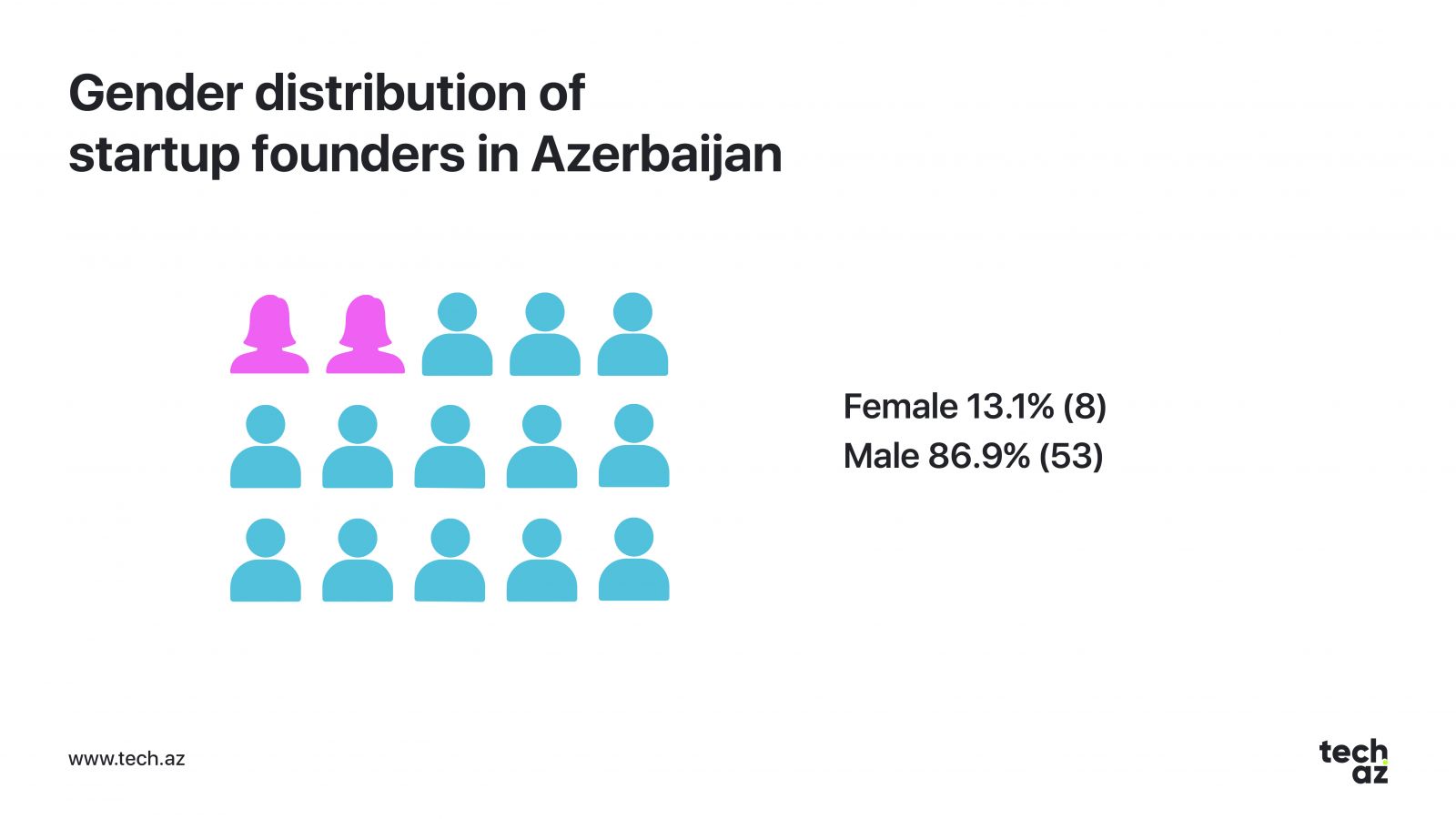 Statistics show that people in the 20-24 age group are more inclined to start their own startups.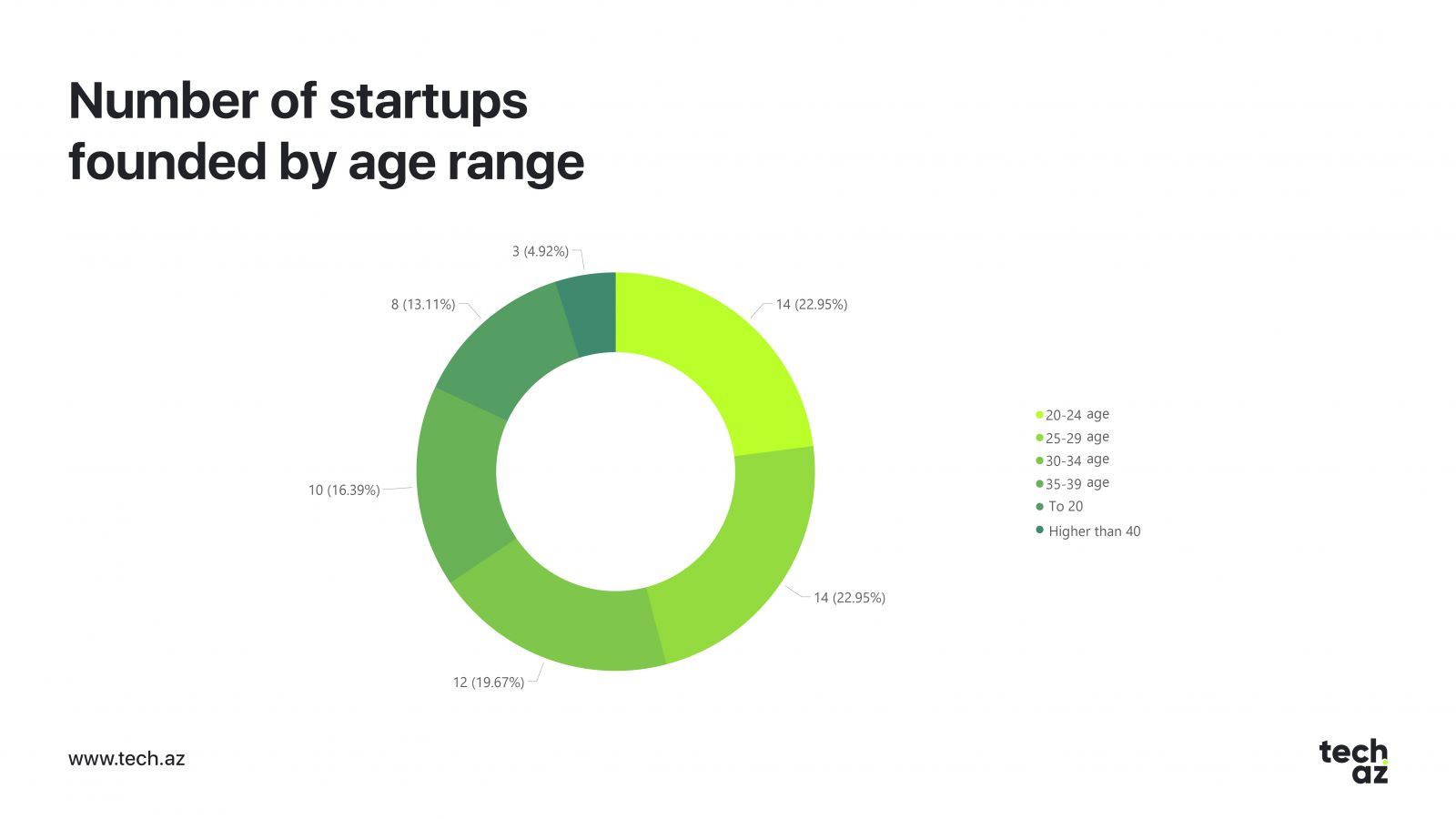 As we mentioned above, the ecosystem is very young and developing. It is for this reason that 2022 is the year in which the most startups are founded.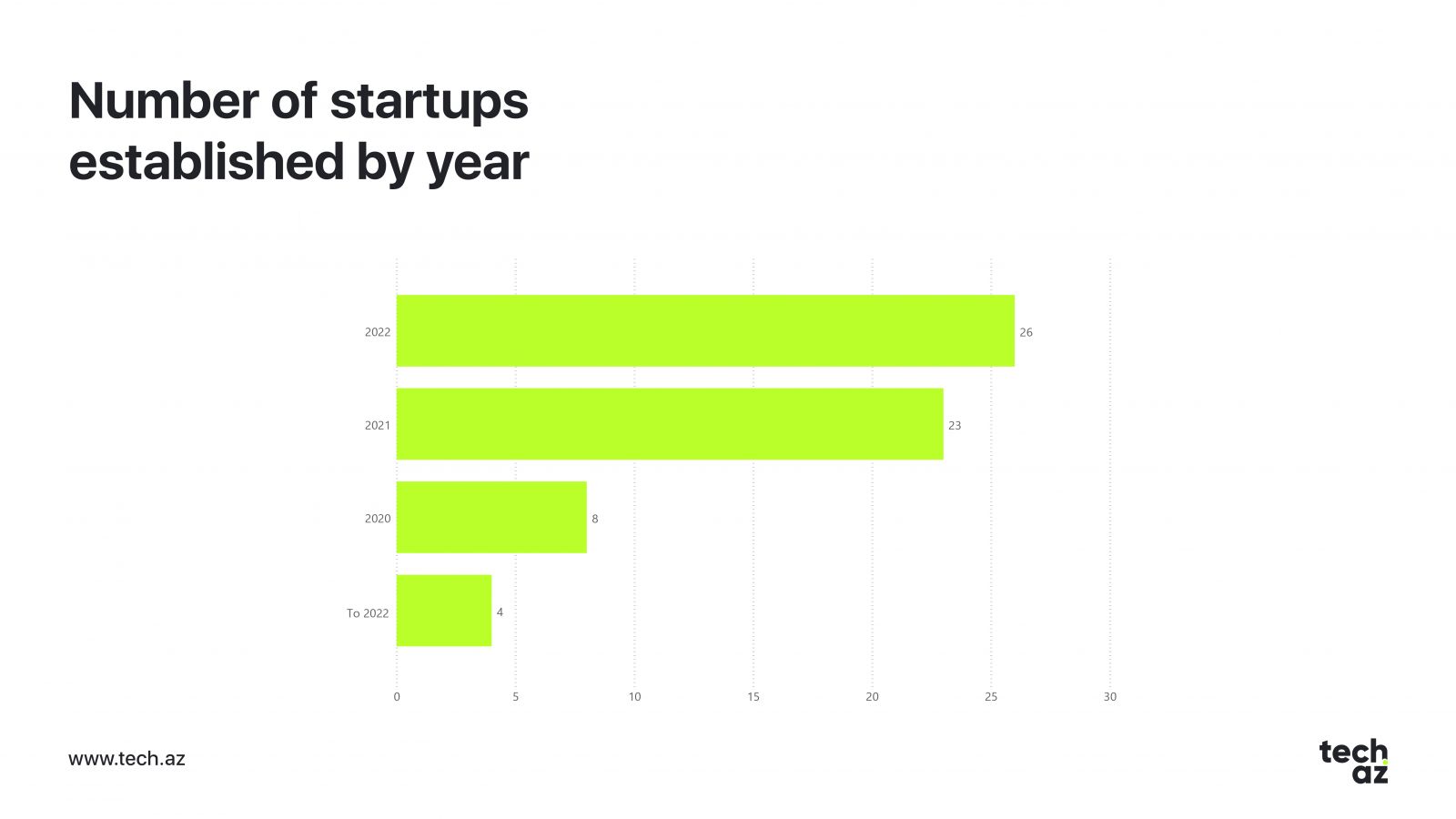 Despite the youth of the ecosystem, the startups established are from the various fields. Data, gaming, blockchain, fintech and more.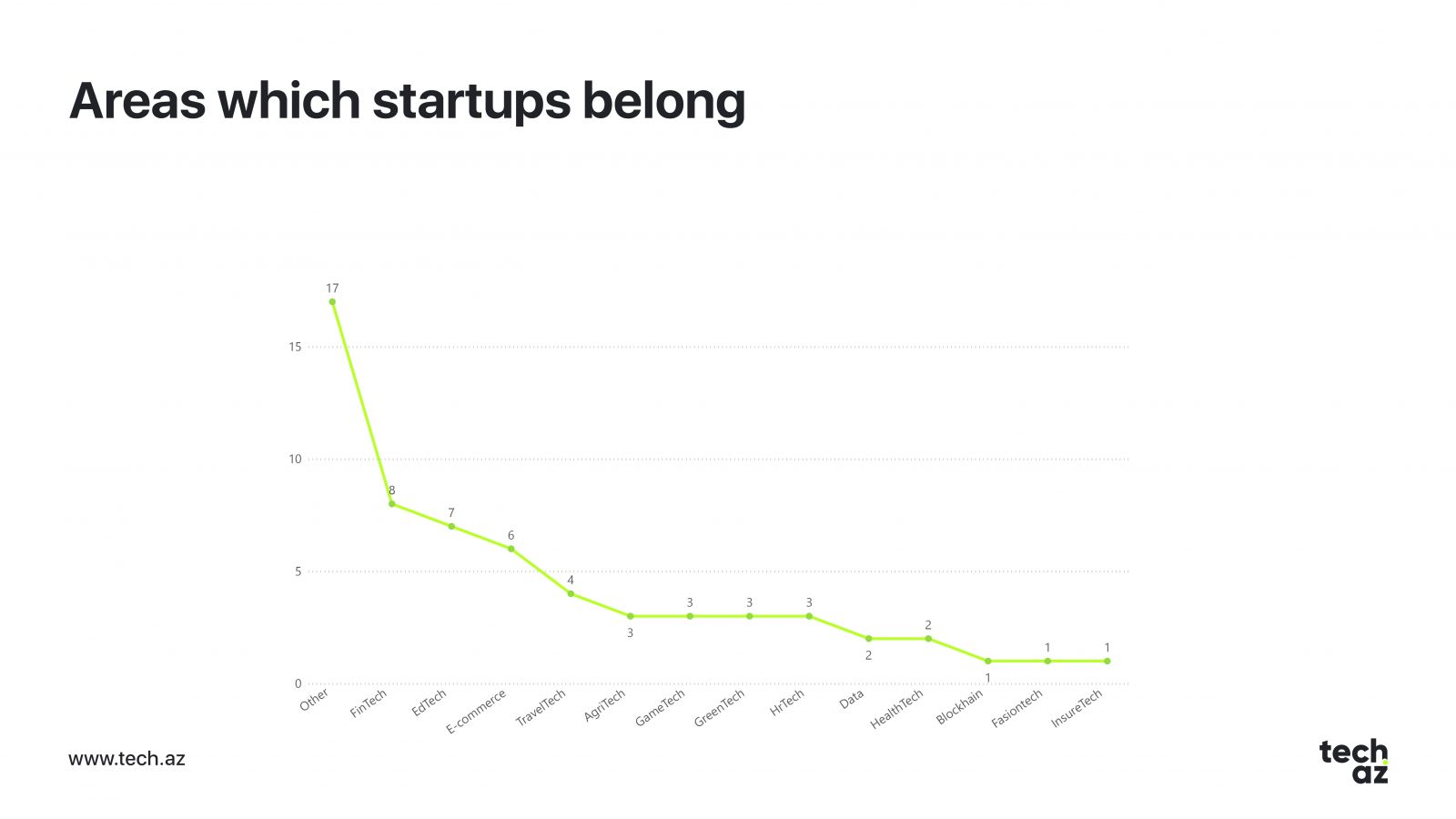 As we know, the most successful startups are startups with several (mostly 3) founders. It is a good thing in our country that founders establish and develop startups together with their partners.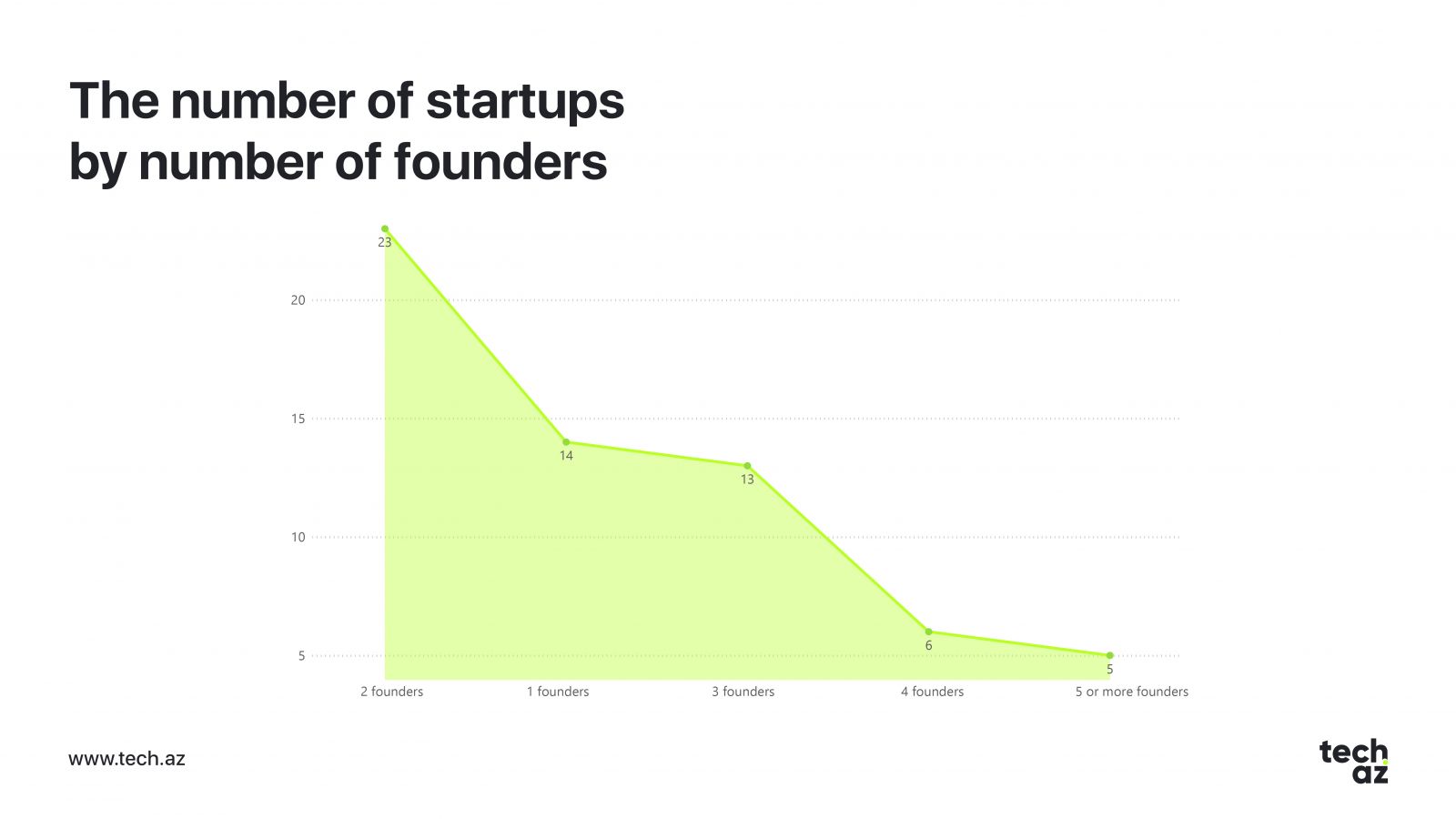 What startups need most is investment. In many cases, startups reported that they have difficulty with finding investors, but in 2022, quite a large amount of investments have been made to startups. Also, the founders of startups have invested fully believing in their ideas.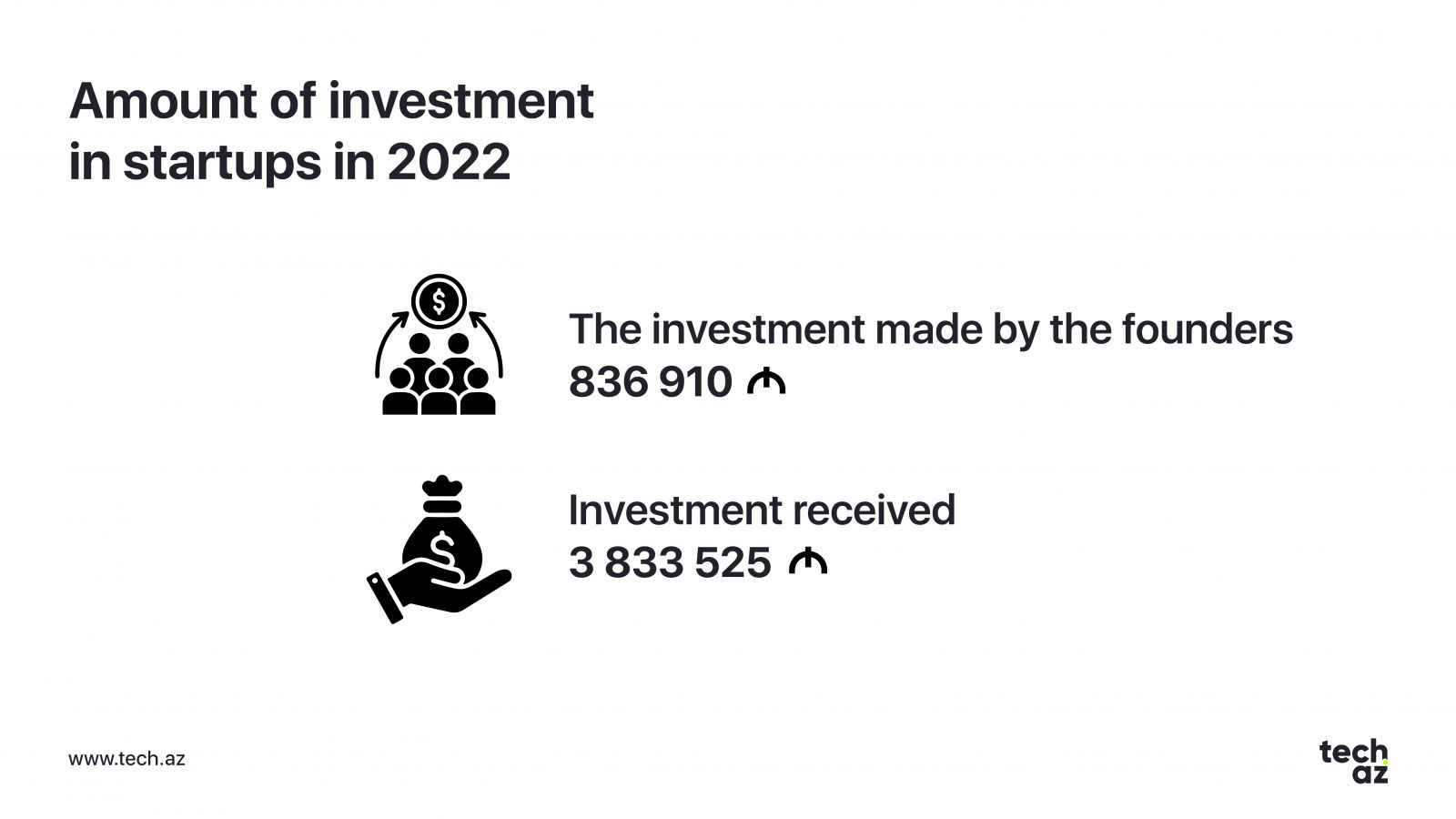 In many cases, VCs come first among investors in startups, but this is not the case in our country. Acceleration centers come first.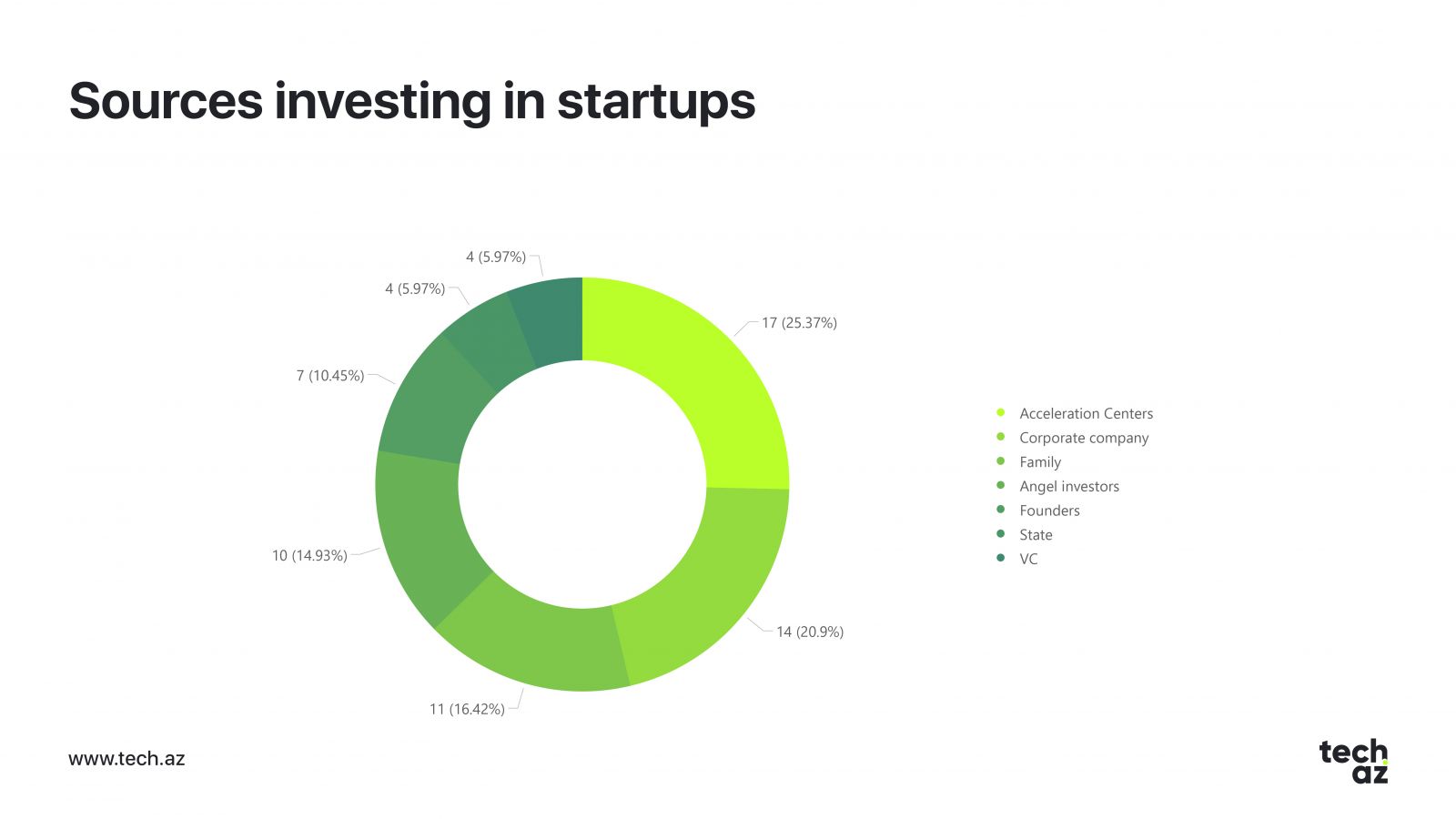 Investments spent in the right direction help startups to grow and become sustainable. Startups in Azerbaijan spend their main funds in this direction as well.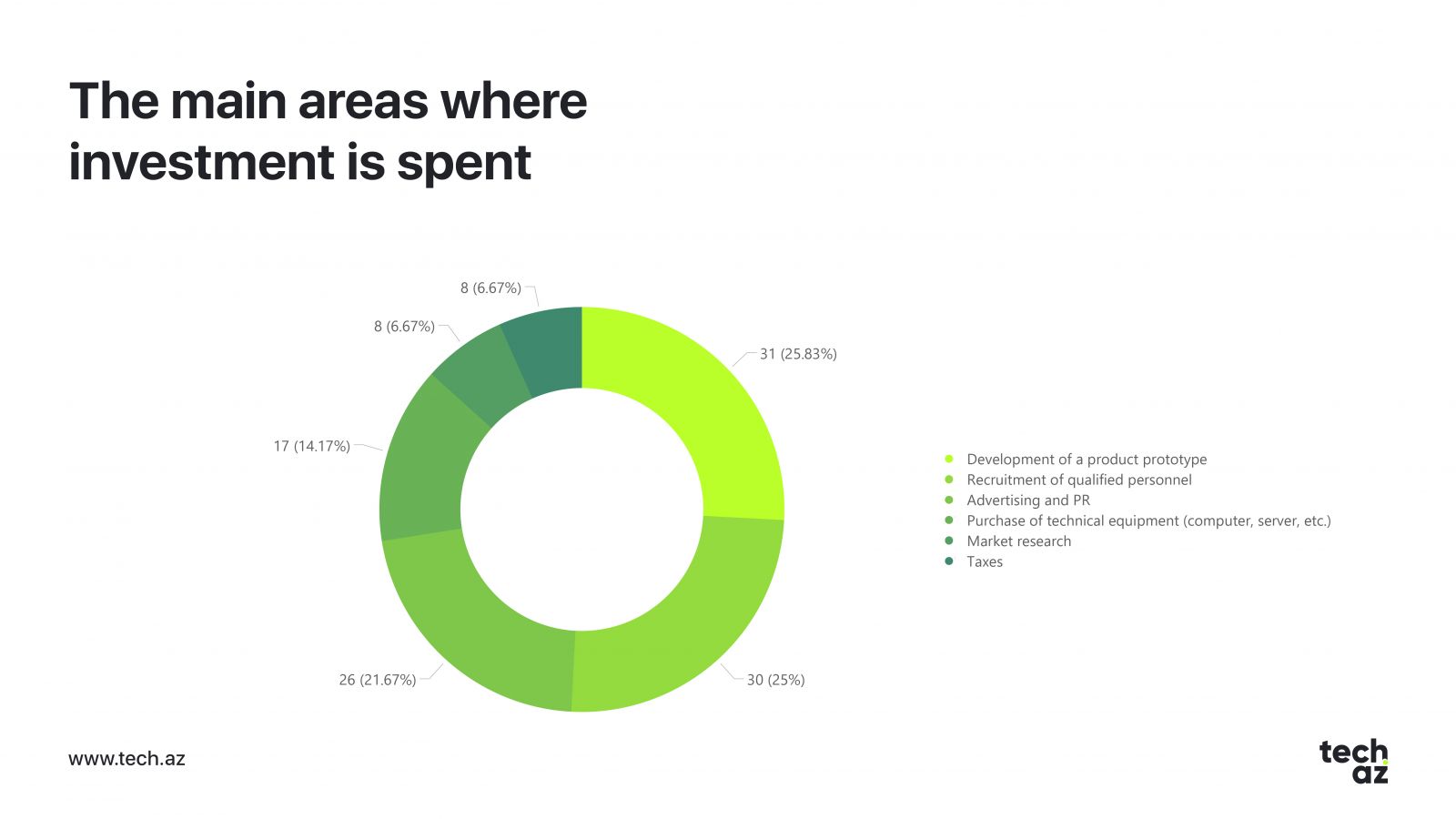 Acceleration centers are the institutions that invest the most in startups and support them the most.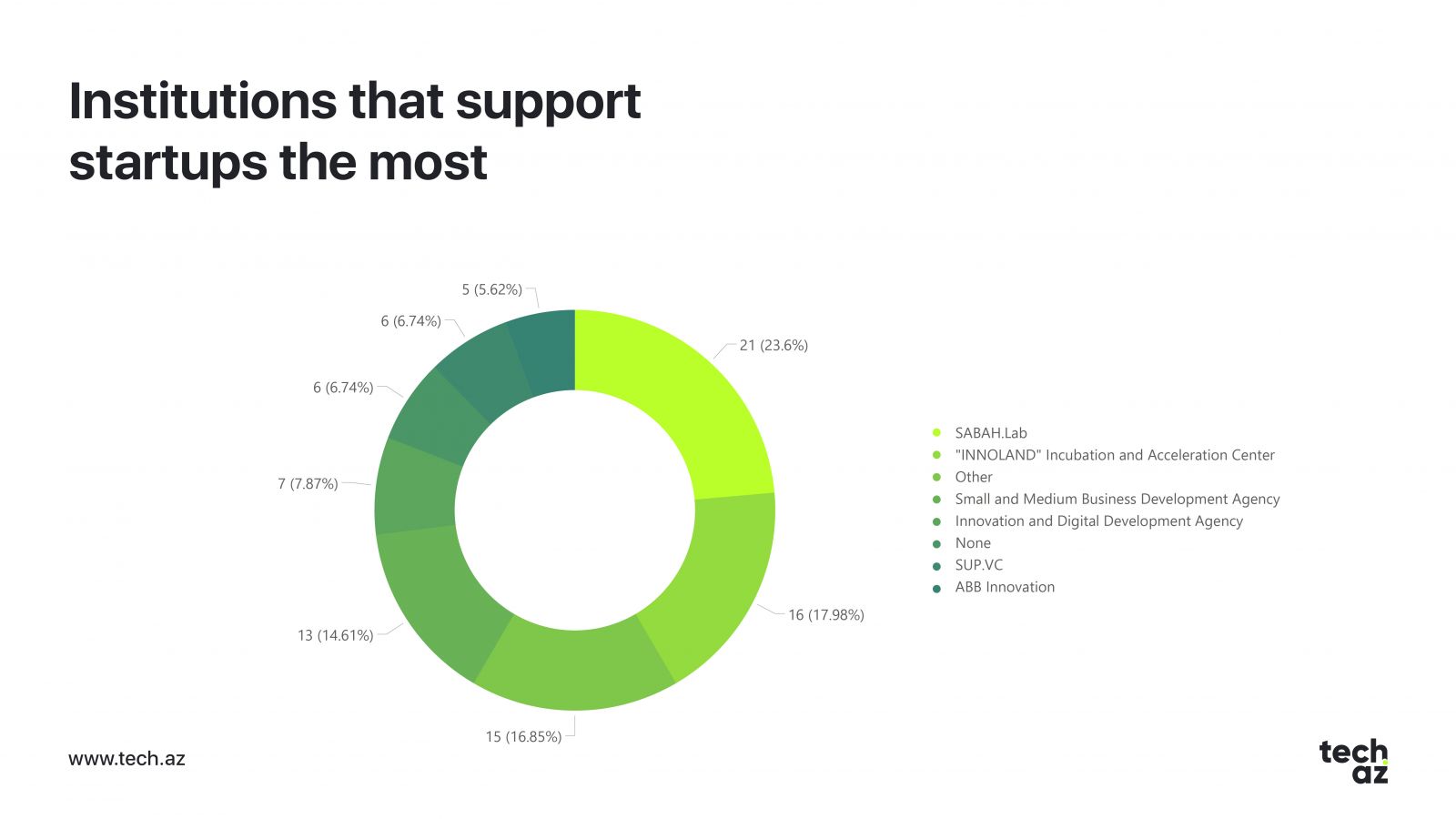 As Tech.az media, we met directly with several startups and talked with them about startups and the ecosystem. The founders of Epoint, Safavy, Payriff and E-LEGAL startups Zeynal Karimzade, Konul Guliyeva, Turkan Farzaliyeva and Samaya Habibova shared their opinions.
What is the story of the startup?
Zeynal Karimzade:
My previous professional career was banking. I was the head of POS-terminal and E-commerce business in one of the leading corporate banks. After operating for a long time, I also felt the emptiness here during the pandemic. I found that in general, the resources of the banks in the market were not able to provide a quick onboarding process for small businesses. That's why I started researching this idea. Already in 2021, we started working on this idea technically, and almost since the day we entered the market, 90 percent of our customers are small and medium enterprises, which we provide both online e-commerce and additional e-commerce services in a short period of time, and we plan to increase that.
Samaya Habibova:
Most of my friends live in America. There were often people who asked me for help in drawing up a contract for renting an apartment. I was trying to make them understand that every state has different laws and lawyers that specialize accordingly. This is the case in many places. Each lawyer specializes in a certain area. When we were looking for a lawyer for drafting the contract, we came across a portal that offered online legal services, and this portal only offered corporate services.

Later, I thought, why is there no easy, accessible portal in Azerbaijan for the legal regulation of issues that occur in court, corporate, or everyday life? Why do not we have a platform with specialized lawyers? For all these and many other reasons, we decided to create such a platform after talking with professional lawyers.

The main goal of E-LEGAL is to provide the service you desire by a lawyer specialized in that field. That is, a lawyer specializing in administrative law will not do corporate law, and a lawyer specializing in corporate law will not do family law. The portal itself will redirect you. Additionally, when I was in the regions, I observed that people had difficulty getting legal aid. E-LEGAL will also be a great advantage for the districts, as people will have access to professional lawyers without leaving their homes.
Konul Guliyeva:
My field of activity is education and training. Just when the pandemic started, I had difficulties with my participation in training. They invited me to the regions as a teacher and trainer. During the pandemic, we thought that if the world itself is going digital, why not make digitalization available in education in our region? For this, we created the Safavy online education platform under the motto "Make education accessible" and we met with very good feedback from the first period.

The age range of users in 2020 was young people between 18-30. 75 percent of young people cannot use foreign platforms because they do not know a foreign language. At the same time, knowledge of foreign languages at the academic level is not high, and in general, due to the region where he lives, he is left out of courses, classes, and education. We think that we can develop in our own language without needing to use Russian, English so much. We set out with these principles. I think we are on the right track, as the results show.
Turkan Farzaliyeva:
In the startup before PayRiff, we were facing many problems with the payment system. One of the parts that bothered us the most was not being able to find a suitable payment system. First of all, we applied to the banks. It took us at least 3-4 months just to negotiate, contract, and purchase technical documents. Months later, after receiving the APIs, we were facing other problems. So, after the customer bought a product, when one of the products was out of stock, we had to write an e-mail to the bank and then to the relevant processing center for a partial refund. The answer we received was "it can be returned after investigation within 7-14 working days". This led to the lowering of the brand value for the startup entering the new market.

Considering these problems, I started working on a startup in this field. In order to provide better customer service and zero dependence on people, we have made the connection completely online in 1-2 minutes. At the same time, we have provided functionality in the user panel for full and partial refunds. Since the first day, we have placed open technical documents and ready-made plugins on the site, so that small and medium-sized enterprises do not suffer. We currently have about 20 different functionalities available to accept online payments. We also create the possibility of accepting payments through terminals in cash.
How much do you invest in your startup in 2022?
Zeynal Karimzade:
I was the 100 percent founder of the startup. And I made the initial investments. I will not be able to say the number, because this number can be covered in certain resources. I can tell you about the investments we received, we were working in Production in 2022. We received an investment of $170,000 in one round. We also had several sponsors. We also received certain amounts from there. In general, we are able to fully cover the operating expenses by the end of 2022, i.e. the end of December, excluding investments, and currently our startup is working only in Azerbaijan, we are still exploring new markets. We plan to enter at least one new market in 2023.
Samaya Habibova:
I am completely dedicated to E-LEGAL In general, if somebody devotes at least five hours, more than four hours of his day, it means that is a great confidence that his project will be successful. This is not a desire, but a goal. We did not intend to buy an investment last year. I thought it wasn't right yet. I still need to know the full value of the startup in Azerbaijan, after that I can buy an investment. For this reason, we did not receive investment in 2022. In 2023, after digitalization of all our products (200+ legal services) and building of our strategy, we will think about it.
Konul Guliyeva:
One of the main topics of the startup is the financial side. Until 2020, we had no outside investment. After the MVP, we started allocating a certain amount of money to sales and projects. But after some time, in 2022, the strategy was only that we should attract a large amount of investment and take it to the foreign market. But we could see that the chances of the EdTech field in Azerbaijan are low, investors are not sensitive and not interested.

In 2022, we invested small amounts of cash ourselves. The biggest investment, I think, is human capital. I myself have worked in the corporate sector. I quitted my job and started to work at a startup.
Turkan Farzaliyeva:
We didn't have bootstrapping. In general, it is very difficult for a founder to "bootstrap" in fintechs. We have been able to attract investment from the idea stage. Although I do not invest financially, I use all my time as a resource. I don't work anywhere other than Payriff, and while I've been in business and marketing for many years, I've done neither. Because "full-addiction" is in Payriff, and I think that startups are successful when the main focus of their teams is gathered together. We have an in-house team of programmers and currently have more than twenty employees.
What are the government agencies that support your startup the most?
Zeynal Karimzade:
We have been closely cooperating with KOBIA on certain projects for a long time. We hold discussions in this direction, certain meetings are held. But we have not received any special support from any state institution. Just as an ecosystem participant, we have constant contact with the Ministry of Economy and KOBIA.

We took second place in Take Off. We also work very closely with the Ministry of Digital Development and Transport and the Innovation and Digital Development Agency within it. There are mutual idea discussions. But in some projects, there was no mutual financial and concrete support.
Samaya Habibova:
In May 2022, we received a Startup Certificate from KOBIA as the first online legal services in Azerbaijan. Thus, we have been exempted from tax for 3 years.

We have signed an agreement with E-GOV regarding the integration of ASAN Login. In turn this has helped us provide our customers with a secure system.

Thanks to the Innovation Center at ASAN Service, we are provided with an office.

We have received such support so far. However, I think that E-LEGAL will receive greater support as a path-breaking platform in the field of law in Azerbaijan. This year, our hope is greater.
Konul Guliyeva:
Of course, I would like to emphasize the support of KOBIA, especially from the state institutions. Issuance of startup certificate is very good for us. Every support that comes is valuable for us and all startups, and tax exemption for a startup with sales and operations is a support in itself. But besides that, we were ranked 6th out of 50 startups in Take Off. We have been gifted support mechanisms, but we are still waiting for their implementation. On the other hand, I see the support of the INNOLAND Incubation and Acceleration Center, where we are a resident. Mentors, experts available 24/7. We have a networking opportunity here. Also, we have participated in the events of the Innovation and Digital Development Agency several times. It is also important for us in terms of networking and getting in front of investors.
Turkan Farzaliyeva:
The main support for us is that we received a startup certificate from KOBIA. But there we expect the increase of certain privileges. We would like not only to be exempted from income tax, but also to apply concessions in other taxes. For startups, paying taxes is indeed a bit difficult. Because we have more than 20 employees, The State Social Protection Fund (SSPF) taxes are high and we want it to be a little lighter. We have also received support from ASAN Imza and ASAN Login. We have been integrated into ASAN Imza from the very first day.
What are the problems you face during your activity?
Zeynal Karimzade:
There are also problems that we face during our activities. The most common problem we face is the weak development of e-commerce in Azerbaijan. There are reasons for this. One is the card-to-card issue. Individual entrepreneurs, companies do not want to join e-commerce, and individuals receive funds. We raised this in front of the Central Bank so that it supervises the banks in this direction. The other issue was related to the tax service, that the VAT refund service currently does not have the ability to connect to e-commerce. Because tokens are used physically and we are waiting for electronic keys from there.

In general, fintechs have certain privileges in many countries. There is such an important factor here. This is related to the VAT issue. As an ordinary company, as a commercial entity, when we automatically send certain invoices, we have to switch to VAT when our turnover exceeds 200 thousand. However, the services we provide are financial services. If we take the other side, that is banks. Because they are financial institutions, they are exempt from VAT in the legislation, and what does this lead to. We also take certain commissions from banks and sell these services with our own margin. We provide virtually the same service. For example, since they do not pay VAT for these services, the rates they offer to customers are VAT-free. And when we present those tariffs, we are forced to switch to VAT after a certain period of time, and 18 percent is automatically added to the cost. This does not make fintechs competitive with banks. That's why companies like ours are exempt from VAT in many countries. For example, they are exempt from VAT in Georgia itself, and I think this is quite an important topic. We have to light it up and here we have to get certain privileges. At least if they equate this service with banks and exempt it from VAT, it will help companies like us a lot.
Turkan Farzaliyeva:
There are many problems we face. The Central Bank is currently making improvements to the laws. Our hope is that the improvements benefit systems like ours. Our main desire is for the processes to go quickly.

The Ecosystem of 2022 report shows that startups are growing year after year and will be more successful in the future. We thank all the startups that participated in the preparation of the report and wish them success!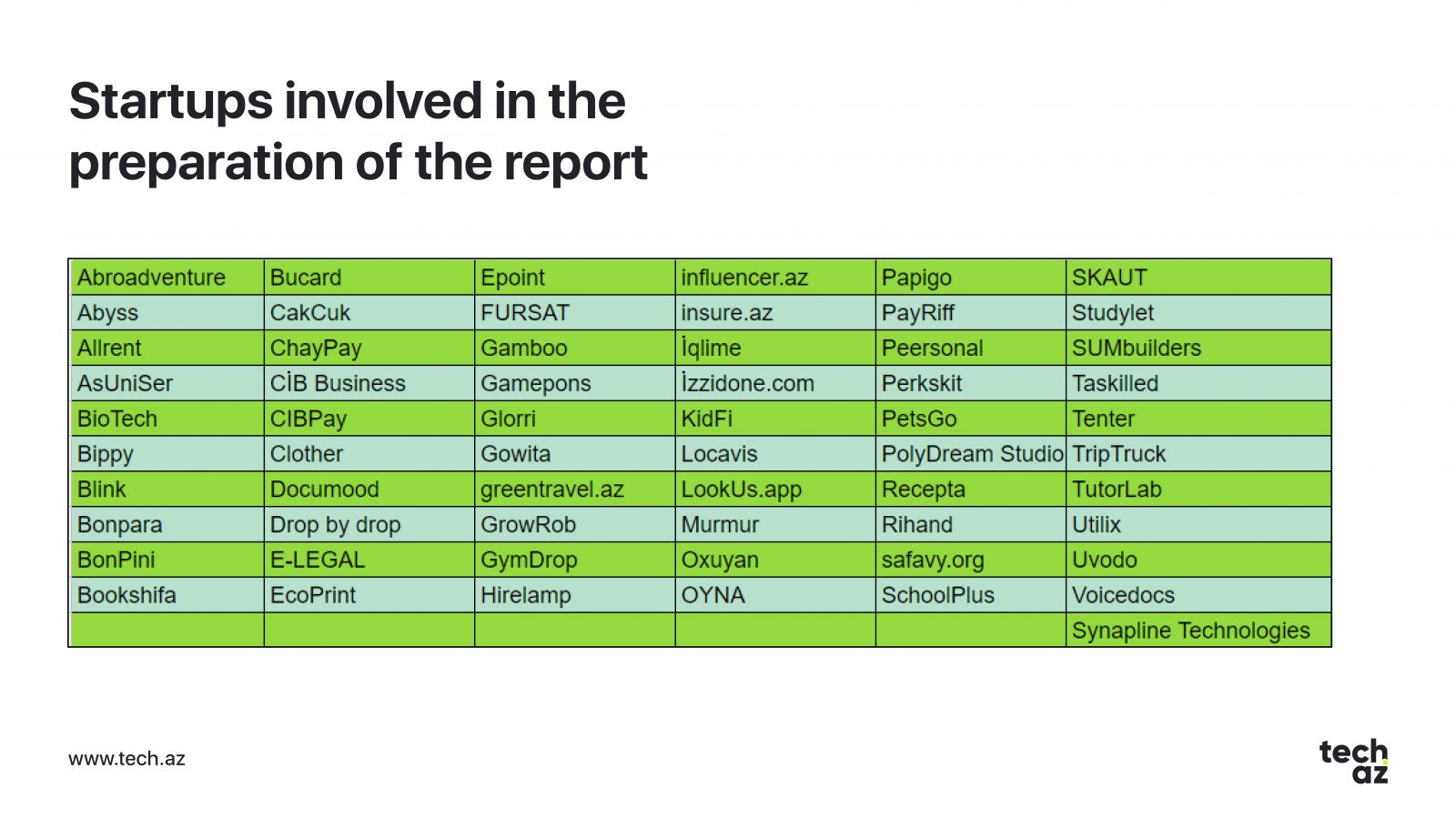 When sharing information on other platforms, it is important to indicate the source with a hyperlink and tag "@techazmedia" on social media accounts.